---
WARNING: Much of the action depicted in this website is potentially dangerous. Virtually all of the riders seen in the photos here are experienced experts or professionals. Do not attempt to duplicate any stunts that are beyond your own capabilities. Always use discretion and wear the appropriate safety gear.
---
THE SPORT CALLED MOUNTAIN BIKING.
There are a whole lot of sports out there for people to choose from. Now why, some ask, should they choose Mountain Biking as theirs? Well the answer, to make it short, can be summarized into three words: excitement, adventure, and thrill.
Mountain Biking is no ordinary sport. It is more of a passion than a game. It challenges every person in all aspects, pushing him to his limits. It teaches the person how to strive harder and do better the next time he rides, gradually bringing out the best in him.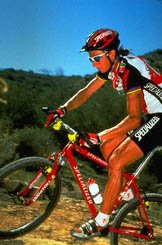 PASSION. That is what you will find in every mountain biker. It is what pushes him to ride harder, faster, and stronger. It is what keeps him going even after his legs feel like they are on fire.
It could be said that Mountain Biking is the best sport ever created. It keeps every rider fit, close to nature, and full of passion, not only for biking, but full of passion for life. It encourages camaraderie among the people who interact with each other through the sport.
The thrills, the spills, the feeling of adrenaline surging through your body. Those are only a few of what real mountain biking has to offer. It is what makes mountain biking unique among all other sports.
What do you think about this article?
Send e-mail to the webmaster.
...your not getting soft on me now, are ya?
---